When he hatched, there was no such thing as the NHS, Queen Elizabeth II had not been born and the idea of man being on the moon was nothing more than a pipe dream. Yet, more than 100 years on, Darwin the tortoise is still plodding on.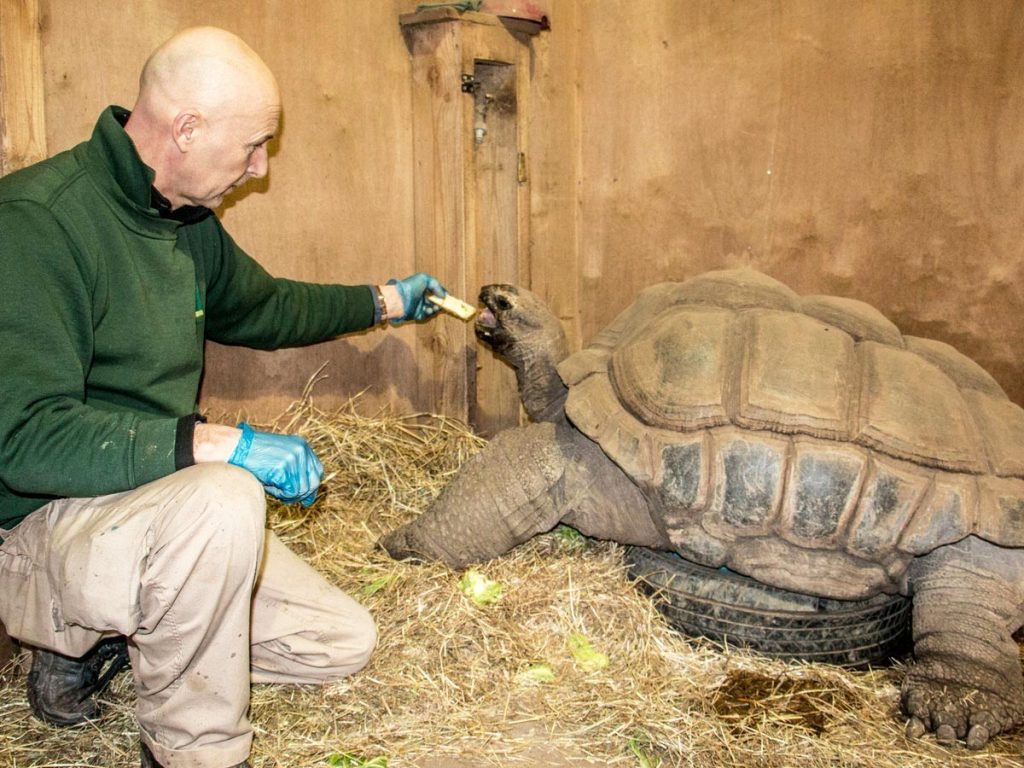 The 35-stone Aldabran tortoise was one of the first animals to arrive at Blackpool Zoo in 1972 and although there were no detailed records of his history, keepers believe the Testudinidae is more than 100 years old – and well overdue a party.
Party plans
Keepers will mark the occasion on 12 February – the birthday of the centenarian's namesake, Charles Darwin.
They will be getting the bunting out and giving him his favourite treat – watermelon.
Zookeeper Andy Bubbins, who has looked after Darwin since 1980 said: "We contacted Buckingham Palace to see if he would qualify for receiving a letter from the Queen, but unfortunately they weren't able to help.
"He is so calm and laid back and loves everyone – apart from the vet."
Special old man
He added: "One of the first things I remember about looking after him is when the vet came to see him for the second time to give him an injection and, although tortoises aren't known for their speed, he quickly got up and shuffled out of the door.
"I know I can speak on behalf of the keepers, staff and even visitors when I wish our special old man a very happy birthday."
100 years of Darwin's life
1917: WW1 being fought, John F Kennedy was also born in that year.
1918: Nelson Mandela was born and WW1 ended.
1926: Queen Elizabeth II and Sir David Attenborough were born and the General Strike took place.
1939: The UK declared war on Germany in the year Tina Turner was born.
1945: Germany surrendered and Rod Stewart was born.
1948: The NHS was founded and Prince Charles and Ozzy Osbourne were born.
1953: Queen Elizabeth II was crowned.
1962: The Beatles had their first Top Ten hit with "Love Me Do".
1973: In this, the year of Peter Andre's birth, the UK joined the European Economic Community.
1979: Margaret Thatcher became the first female Prime Minister.
1987: Mrs Thatcher was re-elected.
1990: Mrs Thatcher resigned and actress, Emma Watson was born.
1997: Princess Diana was killed in a car crash in Paris. Actor James Steward also died in this year.
1999: Scottish Parliament and Welsh Assembly were inaugurated.
2001: British farmers suffered the devastating consequences of foot and mouth disease.
2005: Tony Blair was voted in for a third term in office. Pope John Paul II died.
2008: The Church of England allowed ordination of women bishops.
2011: Prince William married Kate Middleton. Elizabeth Taylor died.
2012: London hosted the Olympic and Paralympic games.
2013: Prince George, third in line to the throne, was born. Mrs Thatcher died.
2016: Britain voted to leave the EU. Queen Elizabeth II became the longest serving monarch. Mohammed Ali died.