Snow leopards at RZSS Highland Wildlife Park in Kingussie, Scotland had a little love sprinkled on them over the weekend in celebration of Valentine's Day.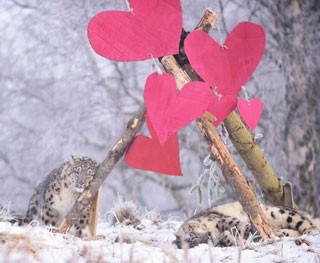 In the hope of cubs, keepers added a little frisson of excitement to the enclosure of male leopard Chan and female Animesh, with large red hearts placed above their pen.
According to the park, any cubs would help contribute to its overarching breeding programme for the species, which finds itself increasingly threatened.
Valentine's Day enrichment
The leopards are managed through the European endangered species programme, which aims to ensure the long-term viability of a range of animal species through carefully managed conservation breeding.
Douglas Richardson, head of living collections at the park, said: "Chan and Animesh have been getting on really well, so we think it was only fitting we gave them a bit of Valentine's Day enrichment to celebrate their pairing.
"The possibility of a litter of snow leopard cubs later in the year will obviously be a significant event for the park, but, more importantly, it will be another step towards ensuring the health of the captive population as a safety net against extinction in the wild."
Ambassadorial role
Mr Richardson also said the snow leopards have a "significant ambassadorial role" that raises awareness and funds to support the species' conservation in the wild.
The leopards arrived at RZSS Highland Wildlife Park in the middle of 2015. Chan came to the Park from Zoo Krefeld in Germany, while Animesh arrived from Marwell Zoo in Hampshire. Both leopards were born in 2013.
For more information, visit RZSS Highland Wildlife Park's website.