A new topical parasiticide for cats boasting a unique combination of active ingredients is being released to vets across Europe.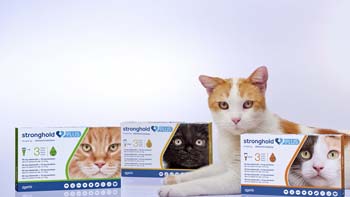 Stronghold Plus from Zoetis treats ticks, fleas, ear mites, lice and gastrointestinal nematodes, and prevents feline heartworm disease.
Active substances
The active substances in Stronghold Plus are selamectin and sarolaner – a new combination of parasiticides. Selamectin has adulticidal, ovicidal and larvicidal activity against fleas (Ctenocephalides species). Selamectin is also active against ear mites, lice, gastrointestinal nematodes and prevents heartworm disease through its efficacy against Dirofilaria immitis larvae.
Sarolaner is a new acaricide and insecticide belonging to the isoxazoline class that is efficacious against ticks, fleas and mites.
Clint Lewis, Zoetis executive vice-president and president international operations, said: "For the first time, we have combined our new, versatile parasiticide sarolaner with the active ingredient in Stronghold, selamectin, resulting in the first approval of sarolaner for use in cats.
"We see sarolaner as a promising platform for future product lines and life cycle innovations, and are pleased with the positive data sarolaner and its combination continue to generate in studies."
Clinical studies
In clinical studies, the high and consistent efficacy was demonstrated against fleas and ticks, as well as the high efficacy against lice, mites, gastrointestinal nematodes and heartworm.
The most common side effects of Stronghold Plus are mild and transient pruritus at the application site. Mild to moderate alopecia at the application site, erythema and drooling have been uncommonly observed.
Zoetis discovery
Thomas Geurden, associate director of veterinary research and development at Zoetis, said: "Stronghold Plus was entirely discovered and developed by Zoetis scientists. It provides fast, sustained protection from the fleas and ticks most often found on cats.
"The combined action of sarolaner and selamectin allows Stronghold Plus to kill four species of ticks, and it lengthens the duration of protection against fleas to five full weeks, with no drop in efficacy at the end of the dosing period – all without sacrificing protection from other important internal and external feline parasites."
Stronghold Plus should be administered as a single spot-on application in accordance with the bodyweight of the cat. For further information, visit the Stronghold Plus website.