A charity appeal to help fund research into canine cancer has raised more than £40,000 in just 10 months.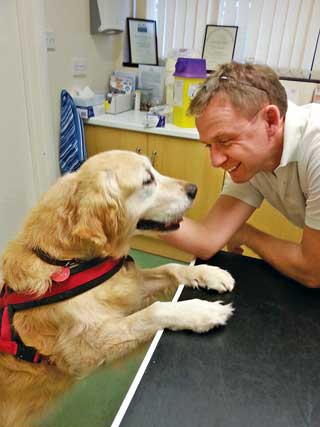 A donation by veterinary group Watkins and Tasker took the amount raised for Zoe's Journey UK past £40,000.
Fourteen-year-old golden retriever Zoe was diagnosed with stage three lymphoma by vet Steve Tasker two years ago. After the diagnosis, Zoe's owner Jayne May set up the fundraising campaign.
Zoe's Journey UK is raising money for the Animal Health Trust (AHT), one of a handful of organisations in the world with a dedicated canine cancer research programme.
AHT has recognised Zoe's Journey UK as being one of the largest independent fundraisers and has been bowled over by the resourcefulness, passion and dedication to a cause.
Mr Tasker highlighted the importance of an early consultation. "A quick diagnosis in the initial stages can make all the difference," he said. "If you notice any changes in your pet, take it to your vet as soon as possible."
Jayne and Zoe were at the opening of Watkins and Tasker's new practice in Portishead, Somerset. It was an extra special event as it coincided with Zoe finishing treatment for stage three lymphoma.
Jayne said: "Watkins and Tasker not only saved Zoe's life from cancer, but the donation takes Zoe's Journey UK to more than £40,000.
"How do you begin to say thank you? The future for animal care in this area is in great hands."