The world's first smart wireless stethoscope, capable of connecting to mobile devices and amplifying the sound of the heart and lungs by up to 20 times, will be on display at BSAVA Congress.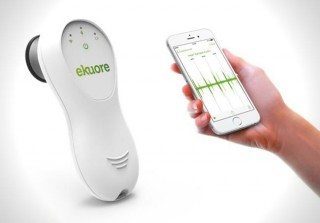 The device, created by Spanish company eKuore, allows vets to carry out actions unthinkable using a traditional stethoscope, such as:
recording, visualising and sharing auscultations
allowing for second opinion
tracking ongoing medical treatment
Using a proprietary app, vets can use the eKuore Vet device to process auscultation, measure beats per minute and apply filters, both pulmonary and cardiac, with just one click.
Sharing information
An advantage of the device, the company said, is the ability to record, process or share the auscultation with other veterinary professionals in a fast and easy way.
An eKuore spokesman said: "Recording the auscultation improves the efficacy of the animal's diagnosis and monitoring ongoing medical treatment.
"It also allows for a second professional opinion, the ability to check against a database or to compare the animal's status over a period of time in an objective manner.
"Processing the results offers numerous advantages; it isolates the fragment of most interest, the fragment volume can be increased or it can be compared to previous results. Also, auscultations can be shared very quickly via audio file transferring."
One size fits all
The device has a replaceable chest piece, eliminating the need for different stethoscopes for different types of animal. Data can also be stored using the app and a variety of filters applied to process the auscultation.
Jordi López-Alvarez, European veterinary specialist in cardiology at Davies Veterinary Specialists, said: "The eKuore electronic stethoscope is a brilliant tool for the clinic, but also for teaching purposes.
"The advantage of using an electronic stethoscope is the cardiac and lung sounds can be amplified while filtering out other external sounds. This is very helpful for the detection of early cardiac and respiratory diseases, even under suboptimal environmental conditions.
"The eKuore allows you to record and store the selected sounds via a very user-friendly app. These sounds can then be played back to the owners of our patients, to students or even to attach these to presentations for other vets to illustrate the different types of cardiac murmurs or abnormal lung sounds with very good quality."
The eKuore Vet team will be on stand 418A at BSAVA Congress
For more information, visit www.ekuore.com