WSAVA awards six members with accolades for their work in companion animal medicine at the WSAVA FASAVA World Congress in Auckland, New Zealand.
Six veterinary visionaries have been awarded for their work in improving companion animal care at the WSAVA FASAVA World Congress in Auckland, New Zealand.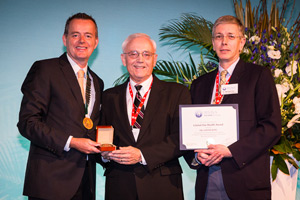 The six winners of the WSAVA annual awards – which recognise ground-breaking achievement in clinical care – include British vet Ray Butcher, who was awarded the WSAVA president award for his outstanding contribution to the association.
Dr Butcher's career has included work with the World Society for the Protection of Animals, where he has been instrumental in efforts to control dog populations humanely, particularly in eastern Europe and Asia.
Dr Butcher – partner at Wylie Veterinary Centre, Upminster – is also a founding member of the Blue Dog Trust, an international programme to reduce the incidence of dog bites in children, and is a founding director of the Alliance for Rabies Control (ARC). He is also on the board of the International Companion Animal Management Coalition, representing both ARC and WSAVA, and is past chairman of the WSAVA animal wellness and welfare committee.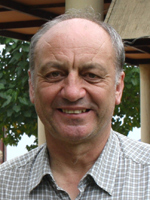 Sharing Dr Butcher's award was Peter Ihrke, recently retired professor of dermatology and chief of dermatology service at the School of Veterinary Medicine, University of California, Davis, who was also awarded for his work with WSAVA.
Elsewhere, French vet Thierry Olivry, who is professor of immunodermatology at North Carolina State University in the US, won the Hill's excellence in veterinary healthcare award for his work with advanced medical and surgical techniques, while Jimi Cook, director of the comparative orthopaedic laboratory at the University of Missouri, won the Hill's pet mobility award for his work in companion animal osteoarthritis, tissue engineering and articular cartilage physiology.
Lonnie King of the Ohio State University College of Veterinary Medicine won the WSAVA global one health award for his time serving on, and promoting, one health organisations, while David Twedt of Colorado State University won the WSAVA award for scientific achievement for his work in gastroenterology and hepatic diseases of small animals.
WSAVA president Jolle Kirpensteijn said: "The achievements of this year's winners confirm the commitment of our profession to constantly push boundaries to ensure we enhance veterinary care for companion animals."