Women-only equine welfare groups are helping to improve the lives of working donkeys and horses in Pakistan.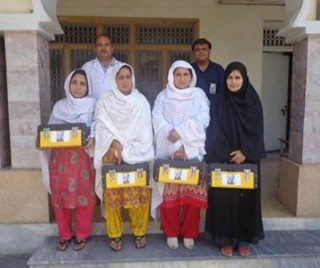 That was the message from Mohammad Zaffar Qureshi, an animal welfare programme manager from Brooke Pakistan, who presented his findings at the Universities Federation for Animal Welfare Conference on 23 June.
According to Dr Zaffar, Brooke Pakistan decided to take on animal welfare issues in Peshawar, northern Pakistan, by speaking to women in communities that own and use horses and donkeys for work, as it is the women who often look after them before and after the working day.
Worrying findings
The research found that:
90% of the women were offering low quality feed
only 20% were cleaning stables daily
10% were offering water more than once in a day
It was also found that no one was taking care of wounds on the animals.
As a result, the team helped set up two community women-only equine welfare groups run by Brooke-trained government female veterinary assistants. They worked with the groups for a year, holding monthly meetings where the women would learn techniques to help them care for the horses and donkeys.
Positive change
In late 2015, Brooke Pakistan ran research again, and found a "significant increase" in both knowledge and positive behaviour in the groups.
Dr Zaffar said: "Before we had the female veterinary assistants, we struggled to engage with the women who cared for the animals, because of cultural constraints on male staff members directly approaching women. This innovation has meant the animals are happier and healthier."
Brooke Pakistan aims to set up more women's equine welfare groups within equine-owning communities in the years to come. To help, visit www.thebrooke.org