A woman who sold sick puppies – some of which died weeks after being homed – has been jailed for a number of offences.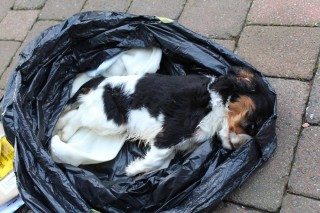 Grace Banks, from Gorton in Manchester, appeared at Oldham Magistrates' Court in March facing five offences under the Animal Welfare Act 2006, the Pet Animals Act 1951 and the Fraud Act 2006.
She was convicted of four offences and sentenced on Friday 6 May at Manchester Crown Court to nine months in jail. She was also disqualified from keeping all animals for life.
Convictions
Banks was sentenced on 20 April after being found guilty of four offences, and acquitted of one charge of causing unnecessary suffering to a cavachon (a cavalier King Charles spaniel and bichon frise cross) puppy called Lulu by failing to provide veterinary treatment.
She was convicted of:
causing unnecessary suffering to a cavalier King Charles spaniel puppy by failing to provide necessary treatment and care for parvovirus and canine distemper
failing to meet the needs of nine puppies
keeping a pet shop without a licence
dishonestly making a false representation as to the condition and breeding of puppies she was selling, thereby intending to make a gain for herself or others, or cause loss to another or expose another to risk of loss
The RSPCA's special operations unit (SOU) launched an investigation into Banks and, along with police, conducted a warrant at a property in Buckstones Road, Shaw, Oldham.
Inside, evidence was found of puppies being sold from the address and the body of a cavalier King Charles spaniel puppy was found wrapped in a bin bag in the boot of a white Mercedes-Benz car on the drive.
Three-year investigation
RSPCA SOU chief inspector Ian Briggs said: "This case brings to a close a three-year investigation by the RSPCA. During this time, Banks consistently sold dogs in an unhealthy condition, some of which sadly died at their new owners' homes.
"She deliberately set out to mislead buyers into believing they were buying from a well-established, legitimate and caring breeder when, in fact, her sole motivation was acquiring as much money as possible, with no regard to the suffering she caused to the animals in her care, or that of the people who purchased dogs from her."
The RSPCA and the Animal Welfare Foundation have developed a puppy contract to help people source and buy puppies responsibly, as well as give potential buyers advice on what to ask and look out for during the process.