Veterinary staff at Wey Referrals, the Woking-based veterinary hospitaland centre of excellence for small animal surgery, have donated theirtime and expertise to give a Battersea rescue dog, Tasha, a new leaseof life.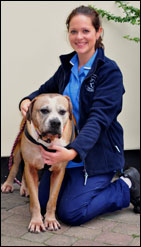 The seven year old Mastiff cross had been taken in by Battersea Dogs and Cats Home in March 2009 as a stray. While she was lively and playful, the veterinary team at the charity realised that she'd had previous ear surgery as her ear canals had been removed. She'd been left with a permanent "one sided smile", suggesting that nerve damage had been caused during the procedure.
While the charity's staff were preparing her for rehoming, Tasha developed a swelling below her right ear. It proved to be a serious inner ear infection which proved resistant to high doses of antibiotics.
Further surgery by a specialist soft tissue surgeon was felt to be the only solution but with operating costs likely to be in excess of £1,000, this was a huge challenge for a charity such as Battersea.
At this point, Wey Referrals, part of the Pet Doctors group, stepped in and offered to donate their time and facilities to carry out the procedure, leaving the charity to pay only for materials used. Tasha's operation was carried out by recognised small animal surgical specialist Ed Friend in August 2009 and she is now back at Battersea and making an excellent recovery.
Simon Lapish, veterinary surgeon at Battersea Dogs and Cats Home, said: "The inner ear infection she developed proved severe and, because of the damage and complications caused by her previous surgery, we felt that using a specialist soft tissue surgeon was the only option. For a charity such as Battersea with an ever tightening budget, the cost was a major issue. Because of this we were so grateful when Wey Referrals offered its help."
Sarah Price, head nurse at Wey Referrals, commented: "After examining Tasha, the clinicians were concerned that ear infection Tasha was suffering from was potentially life threatening as it could have started to affect her balance, meaning that she wouldn't be able to stand up. As our vet explained, the operation is relatively routine when it's carried out for the first time but, when it has to be repeated as in Tasha's case, it's more complicated because the ear canal itself has often already been removed.
"Fortunately, we were able to successfully remove the infection from her middle ear and prepare her for a good recovery. We're delighted to support the vital work of Battersea Dogs and Cats Home and hope it won't be too long before Tasha has a happy new home."