Nine cases of West Nile virus (WNV) in humans in Italy have beenreported since early September 2009 and the disease has now claimed thelife of two victims, both men aged 71 and 82, according to the ItalianPublic Health Authorities.
All those affected by the WNV have been elderly and from northern Italy with seven cases reported from the Emilia-Romagna region, one case from Lombardy, and one from Veneto.
Fifteen cases of WNV have also been confirmed in horses in an outbreak of the disease which began in Lombardy in late July and which has caused the death of six of the affected horses so far.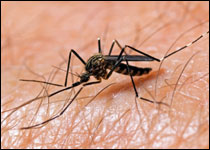 The Italian outbreaks in humans and horses come as researchers at Zurich University have reported that the Asian rock pool mosquito, Aedes japonicus has colonised more than 1,400 square kilometers in central and northern Switzerland and parts of southern Germany.
While the main mosquito vectors in Europe are Culex pipens and Culex modestus, Aedes japonicus is also regarded as a highly competent vector.
Commenting on outbreak in Italy and on the news that an additional mosquito capable of spreading the disease has now been found in central Europe, Sylvie Lecollinet from AFSSA, an EU Commission-appointed laboratory in France, said: "We've been monitoring the outbreaks of WNV both in humans and horses in Italy with great concern and liaising fully with the Italian authorities.
"Extending mosquito distribution is a serious issue and should be taken into account when assessing the risk of disease emergence. The epidemiological role that these mosquitoes could have in WNV transmission should be further explored. With cases reported in Hungary and Italy already this year, we're remaining vigilant as the peak season for mosquitoes has not yet passed."
WNV is only transmitted directly by mosquitoes and both horses and humans are dead end hosts. While the disease is potentially fatal, horses can survive with aggressive nursing therapy though some suffer permanent neurological defects. Earlier this year, Fort Dodge Animal Health launched the first equine WNV vaccine, Duvaxyn WNV, in Europe.
Further information on the disease and its prevention can be found at www.westnile.eu.
Aedes japonicus image ©iStockphoto.com/doug4537