First minister Carwyn Jones has announced that the Welsh Government is to prioritise its Control of Dogs Bill as a step in its five-year legislative programme.
The Welsh Government has announced that it is to prioritise its Control of Dogs Bill in the next year.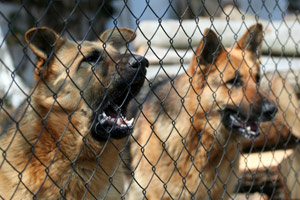 Speaking as he updated Assembly members on the progress of the Welsh Government's five-year legislative programme, first minister Carwyn Jones said the bill would be introduced next spring to protect the public by promoting responsible dog ownership.
Mr Jones said: "The environment minister, John Griffiths, made a commitment to take early action on this important issue. I'm therefore pleased to confirm we will be consulting on the Control of Dogs Bill, which will propose key changes to current dangerous dogs legislation. For example, action could be taken where dogs attack people or other animals on any property."  
The bill will also see changes such as a shift in focus to the behaviour of individual dogs rather than on certain breeds and the provision of training and education for dog owners.
The Kennel Club praised the announcement, while insisting English legislation was lagging behind. Caroline Kisko, communications director, said: "We are pleased that the Welsh Government is once again putting dog welfare at the top of its agenda by responding to our campaign efforts and making effective dog control one of its key legislative priorities.
 
"The proposed new bill, similar to Scotland's Control of Dogs (Scotland) Act 2010, into which the Kennel Club had significant input, will pave the way for the rest of the UK in improving current dangerous dog legislation.
"What we now need is for Westminster to also put such vital changes in place for the benefit of public safety and animal welfare alike."
A public consultation into the control of dogs will be launched by the Welsh Government in the autumn.
Meanwhile, the Environment, Food and Rural Affairs Committee has announced that it is to hold its first oral evidence session for its dog control and welfare inquiry. Evidence will be heard from Angela McGlynn, dog control campaigner, Luciana Berger MP, the Guide Dogs for the Blind Association, the National Farmers' Union and the Communication Workers Union.
The meeting will take place at the House of Commons on September 5, 2012.