Animal Health Veterinary Laboratories Agency hopes six-month pilot study will encourage farmers in the region to share details of new disease incidence on their premises with neighbours.
The Animal Health and Veterinary Laboratories Agency (AHVLA) has announced the bovine tuberculosis (bTB) eradication boards of both south-east and south-west Wales have launched a pilot study to encourage farmers in the region to share details of new bTB incidence on their premises with their neighbours.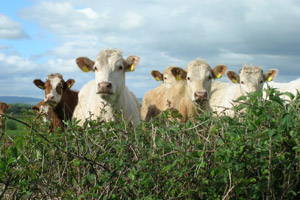 From yesterday (April 22, 2013), cattle keepers in south Wales whose herds are deemed officially TB free withdrawn (OFTW) – meaning positive bTB results have been found at a postmortem examination or culture and that two clear herd tests are needed to gain official free status – will be asked to sign a voluntary consent form by the AHVLA soon after the disease is identified.
Signing the form, says the agency, will allow it to disclose the affected premises' name and address to herd owners of nearby farms which are considered to be at risk from transmission.
In a statement, the AHVLA said it hoped the availability of such information would help farmers take steps to prevent spread between herds.
The agency said: "For example, this may include moving cattle from any fields that are on the boundary or putting in place biosecurity measures to prevent cattle contact between premises."
The pilot study is to run initially for six months. If successful, says AHVLA, it may be rolled out across Wales.
You can call your local AHVLA office for information, the details of which can be found on the agency's website.