Welsh CVO Christianne Glossop is warning people across Wales to think twice before releasing Chinese lanterns due to the dangers they can pose to livestock and buildings.
The Chief Veterinary Officer for Wales is asking people to think twice before releasing Chinese lanterns due to the dangers and stress that they can pose to livestock and other animals.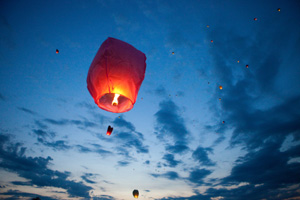 Christianne Glossop also highlighted that the flame produced by the lanterns can pose a real fire hazard to buildings and machinery, particularly in rural areas.
Dr Glossop said: "The release of Chinese lanterns is still quite a common sight in many parts of Wales however I am keen to remind people of the hidden dangers of these devices. Lanterns can and do pose a serious danger to livestock, other animals and buildings."
Dr Glossop referenced an independent report by agricultural and environmental consultancy ADAS UK Ltd, which claims the fire risk associated with the use of sky lanterns – to agricultural crops, buildings and moorland – was significant.
She added: "We also know that ingestion of debris from lanterns can and has caused penetration of an animal's digestive tract leading to peritonitis, heart problems and in some cases death. I would therefore urge people to think twice before releasing lanterns and to carefully assess the impact that the lantern could have on the area surrounding its release."
Calls for a countrywide ban by The Marine Conservation Society and Keep Wales Tidy were refused last month as it would be "difficult to justify", the Welsh Government claimed. However, two Welsh local authorities have implemented a voluntary ban on the release of sky lanterns on council owned land.
In response, minister for natural resources and food Alun Davies said he would encourage other local authorities to follow this approach. He also promised to raise the issue with charitable organisations to ensure that they consider the wider impacts of releasing balloons or sky lanterns at their events.
Image ©iStockphoto.com/EduardSV