A vet has achieved a career first by treating the first red-footed booby bird recorded in the UK and accompanying it on a 5,000 mile journey home to the Cayman Islands.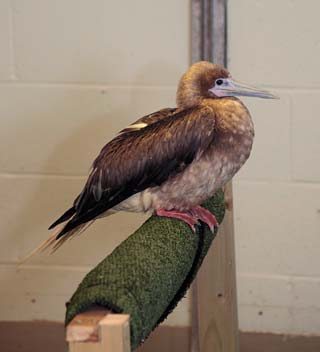 The bedraggled bird was found washed up on a beach in St Leonards-On-Sea, East Sussex on 4 September.
Norman, as he has now been called, was underweight and dehydrated when he was rescued by East Sussex Wildlife Rescue Ambulance Service and transferred to nearby RSPCA Mallydams Wood wildlife centre.
Sprats and sunshine
Spending his days under a special heat lamp to keep him warm, Norman was nursed back to health on a diet of sprats.
RSPCA wildlife vet Barbara Watson said: "I never imagined in my career I would be asked to treat a booby bird as they have never been seen over here before."
The next issue to be addressed was the fact booby birds hail from sunny climes such as the Caribbean. Not to be deterred, the RSPCA joined forces with British Airways and IAG Cargo to ensure he made it back to his fellow birds.
Jet-setter
Norman was taken to London Heathrow Airport on 15 December and jetted off on a 12-hour flight to his new home at a nature reserve in the Cayman Islands.
Dr Watson flew alongside Norman to keep an eye on his progress and carry out checks before and after the flight.
She said: "It is so wonderful to be able to take Norman back to the wild where he belongs. It will be fantastic to see him in among other birds just like him, which is how it should be.
"It is incredible to think how he got to the south coast of England – I don't think we will ever really know how – but it is amazing and we are really grateful to everyone who has had a hand in helping him to get him back home safely."
Norman will spend 30-days in quarantine before he is released to join other booby birds.
Norman's journey will feature on the BBC One's The One Show in January. His journey, and that of Dr Watson, was donated by British Airways and IAG Cargo.