Veterinary volunteers are being sought to operate a clinic and treat the animal population of Tierra Bomba Island, Colombia as part of the WSAVA's latest global outreach project.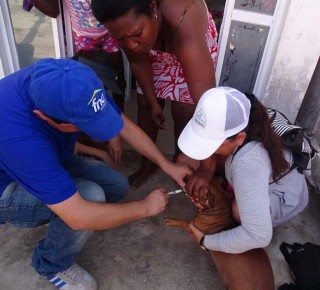 Taking place in the week prior to the WSAVA World Congress (27-30 September), the two-day project will provide clinical care to pets whose owners cannot afford to pay for treatment.
It will also carry out a spay and neuter programme to help manage population growth among dogs and cats.
Leave your comfort zone
The WSAVA's global outreach activities, supported by Hill's Pet Nutrition, aim to share the knowledge and experience of its members worldwide and provide an avenue for them to contribute to human and animal welfare.
For 2016, the WSAVA is supporting Organización por el Respeto y Cuidado de los Animales – an organisation providing preventive health and clinical care for pets owned by the residents of Tierra Bomba Island, where levels of poverty are high.
The WSAVA hopes to recruit around 10 vets to join its volunteer team. They will ideally be experienced general practitioners, proficient in general surgery and excited at the opportunity to help others and work outside their comfort zone.