Lantra, the Sector Skills Council for environmental and land-based industries, is urging VNs to keep training and to recognise the importance of skills in keeping the professionprogressing.
No veterinary professional can stand still in regards to knowledge. Although a lot of training is obligatory these days, continuous, diverse and innovative training makes a huge difference to staff, the business, customers and their pets.
Nicola Ackerman, senior medical nurse at the Veterinary Hospital Group (which has 70 members of staff), knows the advantages training can bring.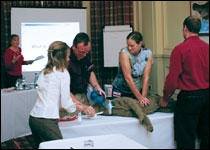 She said: "There are plenty of benefits in training, for the individual, pets, their owners, and the practices professional reputation and as a business. Continued Professional Development (CPD) is a legal requirement if you a registered veterinary nurse, but should be regularly undertaken as veterinary medicine, like all medicine, is so progressive. You have to keep up-to-date with information and techniques; you have to be constantly reading articles, attending lectures and doing CPD."
RVN Lisa Jarvis, Lantra's industry manager for veterinary nursing, said: "It is so important that VNs keep developing their skills and stay abreast of industry developments. Research shows that investing in skills boosts staff productivity by eight per cent per employee and increases profitability – for every £1 invested in training the return can be between £3 and £6 [ Source: Bassi (2002) ]. This can also benefit your practice, as VNs can drive business by suggesting programmes, such as obesity maintenance, to the customer. Training really helps to boost staff motivation, loyalty and confidence, which can only benefit practices UK wide."
Mrs Ackerman said: "Continuously sharpening your skills benefits the patient ultimately, because they get the best care and the most up-to-date procedures. The veterinary nursing syllabus has changed with the evolving nature of the profession, showing the requirement for client care and preventative medicine.
"My training, and training others give me a sense of achievement. If you do your original training and then stop, you stagnate."
Lantra helps supports VNs improve their skills, working to ensure that training meets the needs of industry. For more information about Lantra or get involved by becoming a member of Lantra's Virtual Industry Group or take part in veterinary nursing consultations, visit www.lantra.co.uk or call 0845 707 8007.