The Veterinary Medicines Directorate is celebrating the first year anniversary of its Accredited Internet Retailer Scheme, which now has 25 accredited websites representing 23 businesses.
The Veterinary Medicines Directorate (VMD) has announced it is "very pleased" with the success of its Accredited Internet Retailer Scheme (AIRS) as it celebrates its one-year anniversary.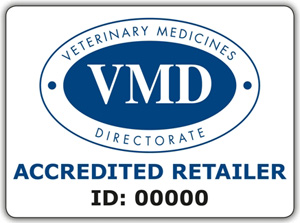 The scheme – which is the regulator's way of facilitating self-regulation by UK-based internet veterinary medicines retailers – launched in May 2012, and now has 25 accredited websites representing 23 businesses. There are a further six applications in the pipeline, said the VMD, and discussions are ongoing with a number of others interested in applying.
A statement from the directorate said: "We are very pleased with the success of the scheme. The list of companies whose websites have been accredited includes some well-known large retailers of veterinary medicines."
However, it also said the first year of AIRS – which has been slated by organisations such as the National Office for Animal Health and the Animal Medicines Training Regulatory Authority for being voluntary – had been a learning curve.
"The year since the launch of AIRS has also been a valuable learning experience for the VMD in understanding the business of buying and selling medicines online," said the statement.
"This knowledge is helping us to work constructively with retailers in changing their practices to meet the requirements of the scheme."
The statement continued: "The VMD has built up some very good working relationships with retailers, and has also established a clearer view of what are the key features or hallmarks of a website that meets accreditation standards."
The directorate has therefore created a "Model Internet Retailer" document that acts as a template for an "ideal" accredited website. This document is sent to applicants and other retailers interested in applying for accreditation, to help them to develop their websites to meet the AIRS criteria.
Looking forward, the VMD said it hoped AIRS would attract more retailers in the coming year, "providing more choice for animal owners who wish to buy medicines with confidence online".
"Together with our ongoing enforcement action in tackling those retailers that do not obey the law, we are continuing to make progress in making sure the buying and selling of medicines, by whatever method, is legal and safe within the UK," it said.
For more information, visit the VMD's website.