The VMD has issued an alert for the recall of a general anaesthetic.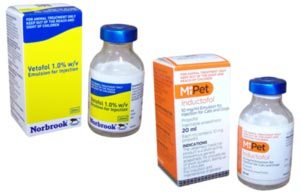 In a statement the directorate said: "We wish to make wholesalers and veterinary surgeons aware the VMD has been notified that Norbrook Laboratories Ltd has issued a recall of all batches of Propofol Emulsion for Injection 1.0% w/v currently on the market.
Coring issue
"An issue of coring has been reported, where the shearing off of a portion of the 20mm bromobutyl bung occurs as the vial is pierced to withdraw the product.
"This may result in particles from the bung entering the product and potentially being drawn up into the syringe upon extraction of the product from the vial. It may also result in the bung not resealing fully after use."
Two brands
UK brand names affected are Inductofol (licence number 02000/4274) and Vetofol (02000/4244).
If you have any queries in relation to the recall or require details of the product in other markets, contact Norbrook's Deborah Curran on 028 30264435 or email deborah.curran@norbrook.co.uk
This article was amended on 27 February to correct the opening paragraph, which incorrectly referred to an issue in the manufacturing process. We apologise for this error.