The Veterinary Medicines Directorate (VMD) claims it will "continue its day-to-day work as normal for as long as possible" should it experience staff shortages due to swine 'flu, and will ensure that priority work remains covered.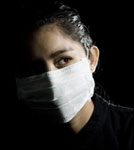 The agency published the overview of its response in relation to staff shortages that may arise as a result of swine 'flu on Friday (August 14), and claimed: "We will adopt this same approach to any human pandemic situation."
The document states: "During a pandemic, the VMD's aim is to continue its day-to-day work as normal for as long as possible. However, the VMD has certain key public and animal health responsibilities which need to be prioritised in the event of a reduction in the availability of staff."
These responsibilities include:
Communications;
Import certificates for veterinary medicines;
Adverse Drug Reactions;
Urgent inspections related to public health;
Assistance and guidance on continuity of supply of veterinary medicines;
Rapporteur work associated with EMEA applications and RMS work associated with other European applications;
Enforcement, particularly for antimicrobials; and
Regulatory advice to suppliers and users of veterinary medicines.
The VMD response plan will "develop and change during the course of a pandemic" and, although the agency is currently managing to continue on a "business as usual" basis, it claims it is ready to prioritise work as necessary.
The plan states: "During the course of a pandemic we aim to provide 'service as usual' in all aspects of our work for as long as possible. In the event that we experience a severe shortage of staff which affects our day-to-day services, we will prioritise the work we do.
"We will monitor staff availability for all services throughout the event and will ensure that priority work remains covered. Whilst we don't expect that it will get to this stage, we will, at the very least, maintain the key animal health services."
Image ©iStockphoto.com/macky_ch