The VMD has announced that products containing clorsulon, closantel, nitroxinil, triclabendazole and rafoxanide are now banned in cattle, sheep and goats.
The VMD has announced it is banning the use of certain flukicides in animals that produce milk for human consumption.
Speaking at the Animal Health Distributors Association conference in Hinckley, Leicestershire, this week (January 22-23, 2013), Paul Green, director of operations at the directorate, told delegates the decision came from the European Commission (EC), which decided to "clarify and harmonise" the advice on using these types of products across the member states.
Mr Green said: "The advice confirms that products containing clorsulon, closantel, nitroxinil, triclabendazole and rafoxanide are not authorised for use in animals producing milk for human consumption, including during the dry period."
However, he said, there were "specific directions" with regards to products that contain just one of these compounds as the sole active substance when used in heifers and ewes prior to the first calving or lambing. For example, clostanel can be given to pregnant cattle, but not during the second half of pregnancy, while triclabendazole can not be used within one year prior to the first lambing or kidding in sheep and goats respectively.
However, there are no UK authorised products containing rafoxanide, while clorsulon is currently only included in products in the UK in combination with a second active substance, meaning there are no special circumstances with either of these two substances.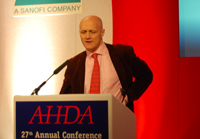 According to the directorate, the EC made the decision following a so-called "community interest referral" – a change initiated when there are concerns regarding the protection of the EU's human and/or animal health. The decision means there will be major changes to the labelling of affected products across the EU.
Mr Green said the marketing authorisation holders (MAHs) concerned were already taking the "necessary steps" to introduce new labelling, and that products containing the new advice would start to be available in "about six months' time".
For more information and a complete list of the "specific directions", visit the VMD's website. NOAH has said it is pulling together some guidance for MAHs to help them implement the new labelling.