At least one in five vets have serious concerns about the health and welfare of pet rabbits in the UK, according the BVA.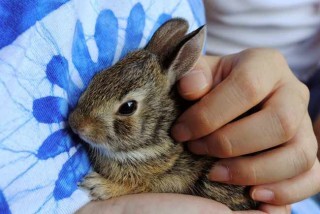 According to the association, 21.6% of vets feel the general public should be "discouraged" from keeping the lagomorphs, especially if they are to be looked after by children.
Problem pets
The association said many misconceptions exist about how "easy" rabbits are to care for, with vets citing the three main health and welfare problems as:
inappropriate diet
loneliness
unsuitable housing
Loneliness is a particular issue, with a report by the PDSA showing 57% of owners keep a rabbit on its own, despite them being highly sociable animals.
Discouraging ownership
BVA president Sean Wensley said: "The concerning rabbit welfare problems vets see in daily practice prompt some of them to think the public should actually be discouraged from owning rabbits, especially if they are being acquired as a child's or 'easy' pet to keep.
"Like most vets working in companion animal practices, I have seen some terrible cases; for example, where simply feeding too little hay and grass to rabbits has resulted in dental 'spikes' growing on their teeth that cut in to their cheek and tongue.
"This is all too common and the BVA would always recommend anyone thinking of getting pet rabbits to do their research and speak to their local vet first to find out about their pet's welfare needs."