Practices have reported 81 possible deaths from lungworm so far this year amid fears the deadly parasite could be on the rise.
Vets have warned the potentially fatal parasite Angiostrongylus vasorum could be endemic throughout much of the UK.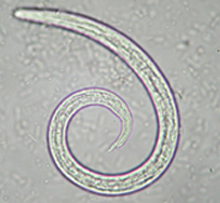 A recent survey of 150 UK veterinary practices revealed 952 reports of suspected cases (157 laboratory confirmed), with 42 of the practices alone reporting 81 possible deaths by the parasite, the larvae of which is carried by common slugs and snails found in the typical UK garden.
These larvae are thriving thanks to last year's weather being the second wettest on record, followed by a damp spring.
Evidence from the Royal Veterinary College (RVC) suggests the parasite has spread across the UK, from its traditional habitat in the south to the northern regions, with one in five vet practices reporting at least one case of the parasite.  
This, combined with a wetter than average May, means the UK's eight million pet dogs are particularly at risk this summer, with experts warning pet owners to be extra vigilant for signs of infections.
Further research among 2,000 UK dog owners by Bayer Animal Health discovered that 84% don't know the symptoms of the parasite and 50% don't know the risks of infection. However, dog owners had noticed an increase in slugs and snails over the past year, with 85% reporting large numbers of them in their gardens. 
Vet Jayne Fisher from the Ashworth Veterinary Group, said: "Cases this year are higher than ever in our practice. We believe this has resulted from a combination of perfect weather conditions for lungworm larvae, with unusually damp and wet weather, combined with dog owner complacency or confusion when it comes to preventative treatments.
"Many dog owners still believe it is enough to use conventional worming tablets, and this misconception is something we are trying to address. We've signed up to the Be Lungworm Aware campaign to help raise awareness with our clients."
Jenny Helm is a vet at The University of Glasgow and she is also concerned dog owners be made aware of the risks. "I have recently heard about several cases being confirmed throughout the country and I get the impression that there does seem to be an increase in reported cases," she said.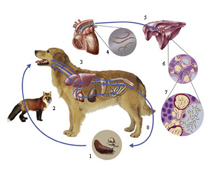 "I also know, from recent research that slugs in the Glasgow/Ayrshire area have been found to be positive intermediate hosts.  Although many factors will influence the level of disease in dogs, and the recent wet weather may be one of these factors, in the light of these findings, we must take the risk of A.Vasorum seriously and where possible take preventative measures."
Caroline Braidwood, group product manager at Bayer Animal Health added: "While dog owners are becoming more aware of A. vasorum, there is still a real lack of understanding as to the warning signs associated with the condition and how to prevent or treat it.
"Advocate is the only product that can prevent A. vasorum, and from the first application. Our aim with the 'Be Lungworm Aware' campaign is to drive pet owners to their vet practice, where they can then be informed of the dangers of the parasite and educated about correct preventative treatment."
Practices can request a range of 'Be Lungworm Aware' support materials from the Bayer Leaflet Line, or by calling their Bayer territory manager.
To further help spread the word about the campaign, people will be encouraged to end their tweets on Twitter with the hash tag "#belungwormaware", in a display of support.