PDSA issue warning after removing a corn husk from the digestive system of a six month-old puppy.
The PDSA has issued a warning to dog owners after treating a puppy that are ate a corn husk whole, which then got stuck in its intestines.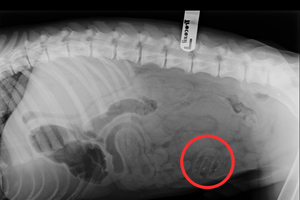 German shepherd pup Rocky, from Edinburgh, bit off more than he could chew after wolfing down an entire corn on the cob centre while out walking with his owners, Lisa Cunningham and Naj Un-Nisa, in June.
Lisa said: "We saw him pick up something in his mouth from the grass verge, but it was gone so quickly we couldn't see what it was. Then the next day he was terribly sick, he'd stopped eating and going to the toilet, so we knew something was very wrong and took him straight to PDSA."
Once there the veterinary team examined six-month-old Rocky and took x-rays.
Senior vet Andrew Hogg said: "We could feel an obstruction in Rocky's intestines and the x-ray revealed something was there, but it wasn't clear what it was. As his condition was rapidly deteriorating, we had to perform emergency surgery to remove the item, which turned out to be a corn cob husk.
"Sadly, it's something we see frequently, especially at this time of year as it's barbecue season. In most cases it is fatal if not treated, as the husk can completely block the digestive system."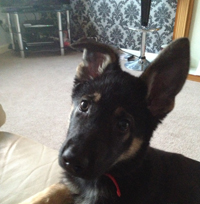 In 2012, PDSA vets treated around 600 cases of "foreign bodies" in pets, with one of the most common items being corn on the cob.
Thanks to the treatment received, Rocky went on to make a full recovery, and bounced back to his usual boisterous self very quickly.
Lisa added, "We don't know how the cob husk ended up on the grass verge, perhaps it had fallen out of someone's rubbish bag after a barbecue. We're very careful to watch Rocky now when we're out and about."
PDSA vets are now urging pet owners to make sure their pets stay safe during the coming hot weather and be especially careful when tidying away leftover food when dining outdoors.
Tips for keeping our furry friends cool in the heat are now available on the veterinary charity's website at click here.