Vets in the UK and Republic of Ireland are being offered a free laboratory diagnostic service to help accurately diagnose swine influenza.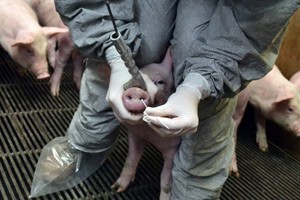 Hysolv Animal Health will supply kits to veterinary surgeons, to take samples from pig herds they suspect are infected with swine 'flu.
The nasal swabs or blood samples will be sent to Germany where vaccine and biological company IDT Biologika will use a special facility to detect which viruses or antibodies are present.
Results from the test, which would normally cost €230 (around £185), will be available within a week. IDT is believed to be the first company offering this type of test.
The tests will be conducted by the Institute for Virus Diagnostics, part of the Federal Research Institute for Animal Health. Such tests, including histopathology, can provide the only conclusive proof of infection.
The offered PCR test — from nasal swabs — is much more precise than previous testing regimes; it will identify and type circulating strains and emerging strains. IDT will also offer the newly branded vaccine Respiporc Flu3 where the veterinary surgeon feels vaccination is indicated.
Hysolv director Richard Brealey said: "IDT is raising the bar in flu testing and this is a significant advance on what has been done in the past.
"In 2014 one-third of 1,353 nasal swabs sent for testing proved positive for swine flu in Germany. In the UK the samples will help give an insight into the epidemiological status quo of the national pig herd."
For more information visit www.hysolv.co.uk