Homeless pet owners are being given help to care for their four-legged friends thanks to a north-east vet team.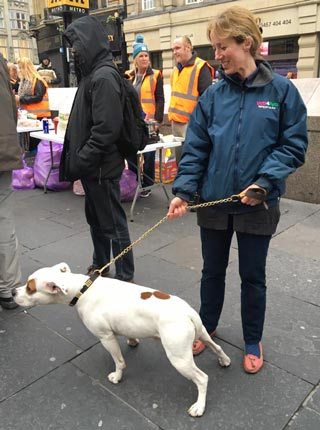 Newcastle Street Paws is a not-for-profit organisation established by North Tyneside Vets4Pets practice manager Michelle Southern.
Originally the idea was to provide vaccinations, flea and worm treatments to pets whose owners were homeless or in difficult situations.
Popular
However, the project proved so popular the team is providing free medical treatments and medicines as well.
Mrs Southern is a sandwich volunteer for Granger Street Friends that provides food to the homeless. Her work with the charity – and seeing homeless people with their pets – inspired her to establish Newcastle Street Paws in April.
Her colleagues, Frances Gray and Gail Macdonald and head nurse Claire Minto volunteer their time to work on the project and help those in need.
Future plans
To date, they have treated dogs, ferrets and a rabbit. Feedback to the initiative has been positive, so much that the volunteers have even been thanked by homeless people without pets.
Due to the project's popularity, everyone at North Tyneside Vets4Pets is involved in some way – from volunteering for the project to fund-raising, including a sponsored dip in the North Sea on New Year's Day.