Blythman and Partners' tombola and waggiest tale competition at fun day help to raise £250 for Newcastle Dog and Cat Shelter.
Blythman and Partners veterinary practice has helped to raise funds for the Newcastle Dog and Cat Shelter by taking part in a fun day for the animal lovers in the north-east.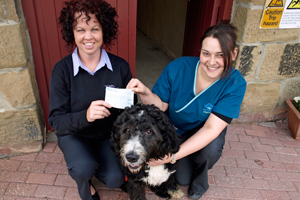 The practice held a stall at the shelter's open day at Benton North Farm on September 21 to raise money to help with the costs of the everyday running of the shelter.
Visitors on the day took part in a range of fund-raising activities including Blythman and Partners' tombola as well as children's crafts, a bouncy castle and fun dog competitions, including finding the "waggiest tail".
Various stalls raised hundreds of pounds for the shelter with a very healthy contribution of £250 from the veterinary practice to the local charity, who said it was the most successful open day it'd had in years.
The shelter looks after a wide variety of animals from dogs and cats to pigs, rabbits and ponies, and people at the fun day were invited to interact with all of the residents of the farm.
Blythman and Partners work closely with the team there throughout the year to ensure the animals are happy and healthy before they go on to find new homes.
Janine Bentley, a vet at the practice's Wallsend branch, presented the shelter with a cheque for the proceeds from the event.
She said: "We think it's enormously important to support the dog and cat shelter at every opportunity and the fun day was a great way to help raise money for the charity.
"The team at the shelter do a fantastic job and it's a pleasure to help them with all of the outstanding things they do for the animals that need their help.
"The welfare of these animals is the most important thing and hopefully we have helped to ease the strain on the charity a little by fund-raising at every opportunity we get."