Vétoquinol has announced the launch of UpCard, licensed for the treatment of clinical signs of veterinary cardiology related to congestive heart failure, including oedema and effusion.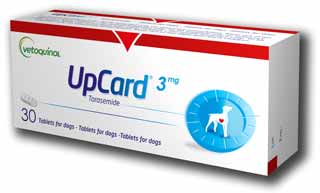 The company said UpCard is the first veterinary torasemide specifically developed for dogs as a flavoured tablet, has a potent, fast onset of action and has a longer half-life, allowing once-a-day administration.
UpCard product manager Lawrence Brown said: "It's an exciting time launching a new active ingredient into the veterinary market.
"UpCard makes our customers' lives easier, by offering an innovative product to aid pet owner compliance and, ultimately, improve cardiac patient care".
For more information, telephone Vétoquinol's head office on 01280 814500.