Television presenter and Suffolk-based farmer Jimmy Doherty officially opened the Ipswich Veterinary Centre on 8 November.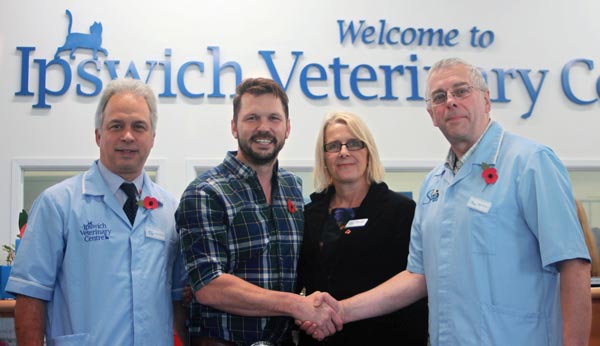 More than 2,000 members of the public and their pets, as well as local veterinary practices, turned out for the special open day event, which also included a commemoration of animals in war.
Ipswich Veterinary Centre is a purpose-built, modern practice that incorporates training facilities for veterinary nurses, receptionists and managers, companion animal trainers and behaviourists, as well as postgraduate courses for veterinary surgeons.
The partnership with the Central College of Animal Studies ensures students are able to train in a professional environment while practising vet and nurse lecturers are able to share their collective expertise.
Presentations
Thirty-five veterinary surgeons and nurses gave presentations on a wide range of farm, equine and pet-related topics, including exotics, ultrasound, CT imaging, dentistry and orthopaedics.
The hydrotherapy pool and treadmill were fully operational and visitors were also able to watch the dog groomers at work in the new grooming lounge.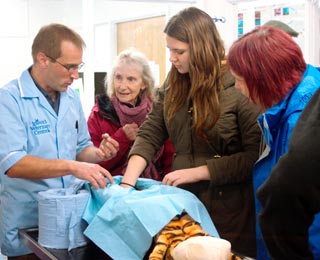 Commenting on the day, veterinary surgeon and partner Tom Webster said: "It was a pleasure to open the new centre to everyone. We've received so much thanks and praise from everyone who attended and are really pleased the centre has been a complete success so soon after opening. We'd like to thank Jimmy Doherty for his kind words of support and for joining us on the day."
To mark Remembrance Sunday, a free educational workshop was set up and run by the team from PetFocus magazine and visitors were able to explore the remarkable contributions made, and being made, by animals in war.
Certain of success
Dave Mason, a veterinary surgeon and practice principal from Kent who attended the event, said: "Ipswich Veterinary Centre is to be congratulated on its state-of-the-art facility, which incorporates a teaching centre for vets and nurses, thereby increasing the opportunities for young people to train for the profession.
"With the experience available within the team and its friendly approach, I am sure it will have great success."