Presentations made during the awards ceremony at the British Veterinary Association's AnnualCongress in Cardiff saw grants distributed and individuals praised for their contribution to the veterinary profession.
Chiron Award
The recipient of the British Veterinary Association's prestigiousChiron Award was announced as Ray Butcher, who has dedicated his careerto advancing animal welfare.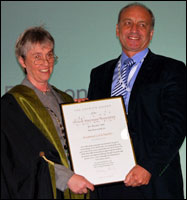 Theaward marks outstanding contributions to veterinary science or foroutstanding services to the profession, judged in either case as beingof a calibre commanding international or interprofessional recognition.
As well as working in his clinic, Mr Butcher is currently a veterinaryadvisor and board member of the WSPA, which he represents the WorldHealth Organisation (WHO) working group dedicated to reduce the burdenof rabies in Asia. He is a founding director and board member of theAlliance for Rabies Control and is involved with the Blue Dog Trust – amultidisciplinary project to educate children how to behave with dogsin order to reduce the incidence of dog bite injuries in young children.
Dalrymple-Champneys Cup and Medal
AgnesWinter was announced as the recipient of the BVA's most prestigiousscientific award, the Dalrymple-Champneys Cup and Medal. The award isto mark and recognise work of outstanding merit, which it is consideredwill encourage the advancement of veterinary science
Professor Winter has had a highly distinguished career in veterinaryteaching and research which she has dedicated to improving sheep healthand welfare and encouraging dissemination of her expert knowledge toveterinary students, farmers, government and other relevantorganisations.

Harry Steele-Bodger Memorial Scholarship travel award
Abigail Collinson and Catherine Wilson were announced as joint winnersof the Harry Steele-Bodger Memorial Scholarship travel award for 2009.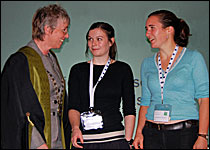 Abigail,who graduated from RVC in July, was awarded £550 towards a feasibilitystudy for the provision of a community-based animal healthcare workerscheme in the region of Kharekhari Village, Rajastan, India. Catherine,a final year student at Cambridge, also received £550 to enable her tostart a study into the zoonotic causes of abortion present in domesticruminants in Western Kenya and correlate her findings with the zoonoticdiseases present within the human community in this area.
Trevor Blackburn Award
Andy Catley was announced as the winner of the Trevor Blackburn Awardin recognition of the dedication and professionalism he has shown tothe strengthening of veterinary services in developing countries overthe past two decades.
Much of Dr Catley's work has been at the interface between animalhealth, poverty reduction and humanitarian crises, particularly inremote and conflict-affected areas. His research on primary veterinaryservices and the development of novel community-based animal health anddisease surveillance systems has influenced policies and approaches tothe supply of veterinary services globally.
BVA Travel Scholarship Scheme
The BVA travel scholarship scheme, instituted in March 1983, awardsgrants annually to veterinary students to enable them to undertakeprojects in developing countries.
The 2009 student travel grants were awarded to:
AbiCollinson (RVC) for a feasibility study for provision of communitybased animal healthcare system in Kharekhari village, Rajasthan, India;
HollyMarsh (Cambridge) to study the role of Borana women in transmission andprevention of mastitis in Borana cattle, Ethiopia;
Ashley Morgan (Glasgow) to study the health and welfare status of domestic cats in the Serengeti, Tanzania; and
AlexanderTorrance (Cambridge) to investigate the relationship betweenimmunosuppression, ectoparasite burden and the occurrence of patchyalopecia in the Straw Coloured Fruit Bat in Tanzania.
They each received £500 towards their projects.
Continued collaboration and support from the World Association forTransport Animal Welfare and Studies came in the form of additionaltravel grants awarded to India Martin (Cambridge) and Claire Okell(Liverpool) to work on health and welfare projects involving workingequids in Egypt and Ethiopia respectively.
Further, the Donkey Sanctuary was again inspired to link up with theOverseas Group by providing an opportunity for Lisa Lin (Glasgow) towork on a humane education programme in Ethiopia.