A vet who appeared on BBC Two's The Great Pottery Throw Down says taking part in the show taught him to have more confidence in his artistic side.
James Greenwood of Viking Vets in Bristol appeared in the first series of the show, which saw 10 home potters from across the country compete in a series of tasks in the hope of being named "top potter".
The show, which has been likened to The Great British Bake Off, saw contestants complete a series of tasks on which they were judged – from making and decorating tiles, to creating egg cups and hand basins.
New experience
Talking to Veterinary Times, Mr Greenwood said: "Filming the show was unlike anything I had experienced before."
"I think we all looked quite nervous on episode one, which I guess was our collective fear of the unknown, but by episode two, we'd started to relax a bit."
Mr Greenwood didn't tell anyone he had applied for the show and was delighted when he discovered he was to be a contestant.
"It was such a huge confidence boost to think I had actually been chosen on the merit of my ceramic work to take part in a show like that," he said. "I have no formal ceramic qualification, so it was a totally new experience – daunting, but exhilarating."
The show was filmed at Middleport Pottery in Stoke-on-Trent, presented by radio DJ Sara Cox and judged by potters Kate Malone and Keith Brymer Jones.
End of the road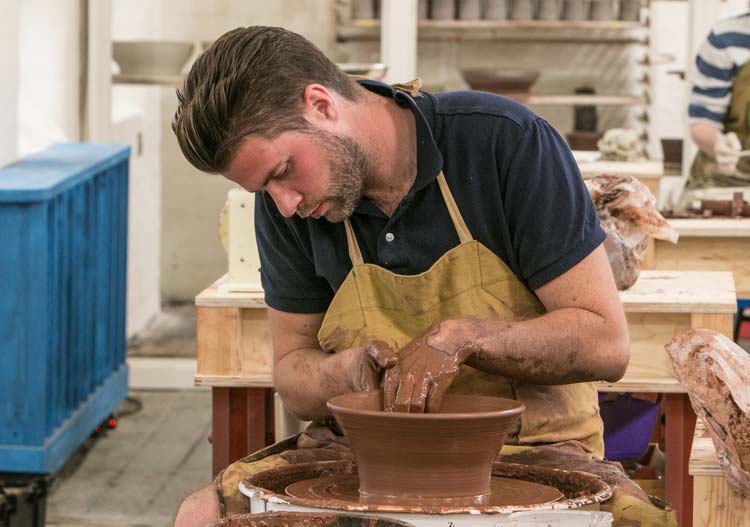 Mr Greenwood was voted off the show at the end of the third episode.
"In all honesty, I felt it was coming, so it didn't hit me as a huge surprise," he said.
"I remember looking around the room and thinking how incredibly talented the other potters were and how much I still have to learn. So, while I was sad to say goodbye to everyone, I was exhausted and felt I had achieved more than I could have hoped for by getting through to episode three."
Mr Greenwood said the whole experience had taught him to have more confidence in his artistic abilities.
"As a vet, I know my own strengths and weaknesses, but creatively, I only really focus on my weaknesses. I very rarely give myself credit for anything I make.
"I think this whole process has taught me to have a bit more self-confidence in my artistic side and don't be afraid to put your neck on the line. It's okay if people don't like your work, but it feels so amazing when they do."