Three vets are in training to take on the 2017 Virgin Money London Marathon in the name of charity.
Rob Everitt from Putlands Veterinary Surgery in Kent, Robert Haselgrove from PDSA Pet Hospital Sheffield and Chris Sherwood from PDSA Pet Hospital Leicester, will take part in the 26.2-mile challenge around the capital on 23 April.
Vital funds
This will be Mr Everitt's fifth London Marathon, with his chosen charity to fund-raise for this year being Alzheimer's Research UK.
He said: "My preparation this year has been made more difficult by injury, but I'm now averaging 30 miles a week in training and really looking forward to the big day.
"Alzheimer's is a condition affecting more and more families, so research is urgently needed."
Mr Haselgrove, who regularly tackles five-mile runs with his dog, first ran the London Marathon in 2013 and is fund-raising for PDSA.
"Every day I see the impact PDSA has on the lives of some of the area's most vulnerable pets," he said.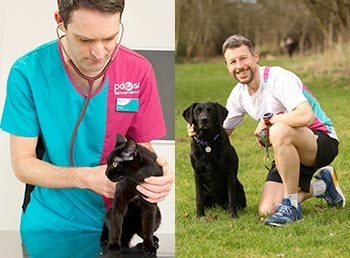 "It is a real privilege to be able to help support the pet owners of South Yorkshire. For many, their pets are their only companion."
Also fund-raising for PDSA is Mr Sherwood, who is no stranger to the gruelling challenge, with this being his 18th marathon for charity.
"This year will be my ninth London Marathon, but it will probably be my most painful and slowest," he said.
"I have plantar fasciitis, which causes pain in my heel. I'm training six days a week, but trying to stick with cross-training and strength work to protect my foot as much as I can.
"It has also been my privilege to train and compete alongside my blind friend Haseeb Ahmad, who ran last year's London Marathon for PDSA, guided by Tim Henning."
Support a vet