Animals across the globe will benefit from safe, secure neutering and population management plans thanks to a London-based welfare charity.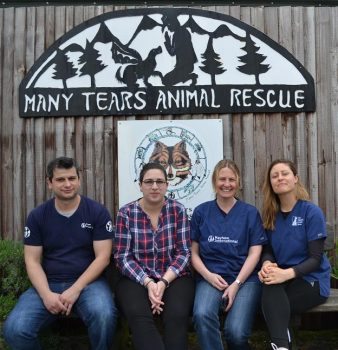 The Mayhew Animal Home's international veterinary training programme sees overseas vets travel to England to work alongside the charity's head vet Ursula Goetz and the rest of the vet team for two weeks to learn about neutering techniques, and dog and cat population management, with the aim of developing animal welfare in communities abroad.
Great opportunity
The most recent visitors were Nuno Rocha, from Portugal, who works and helps at the animal organisation Street Animals, and recent graduate Ana Metskhvarishvili, from Georgia.
Dr Rocha said: "I first heard about The Mayhew through the charity I help and work for. They thought it would be a great opportunity for me to learn new surgery skills and different techniques used for neutering.
"I have learned many skills and techniques I can take away with me and pass to vets I work with."
Insight
As part of the training, The Mayhew's vet team provided an insight into preoperative and postoperative care, protocols, and techniques for improved animal handling, efficient sterilisation techniques and pain management. Implementing these best practice methods significantly helps to control animal discomfort after surgery.
During their time at The Mayhew, Dr Rocha and Dr Metskhvarishvili also got the chance to visit and help out at Many Tears Animal Rescue, based in south Wales, which takes in and rehomes primarily unwanted ex-breeding dogs.