A veterinary surgeon whose dog died in a hot car has told of hisfrustration after the "devastating" incident was resurrected in the national press by a former colleague, two yearsafter the fact.
Unforeseen circumstances meant Alex Gough was required to leave his two Labradors, Heidi and Rory, in his car when working at Downs Veterinary Practice in Bristol during May 2007.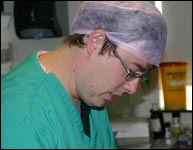 Unfortunately, despite an overcast sky and the provision of ventilation and water, both dogs were overcome by the heat of the car's interior. Emergency treatment to save the dogs was not enough and, sadly, Rory died.
Investigations by the RSPCA and RCVS into the incident were conducted and Mr Gough accepted a formal caution from the RSPCA three months later.
Despite this, Mr Gough's former practice partner, Damien Bush, has become increasingly frustrated with both the charity and the Royal College, claiming that neither body had taken the matter seriously enough. He claims the RCVS should have "conducted a proper investigation", while the RSPCA should have been "consistent in applying the law", particularly as Mr Gough had admitted his guilt in the matter.
However, these feelings were repeated and further aired to the public when several newspapers reported on the incident last month, alongside numerous other heatwave-related canine deaths.
Mr Gough said: "The event was devastating for myself and my family and I feel that two years later, and given that the RCVS and RSPCA have both concluded their investigations, that the matter should be closed."
For further details, see next week's Veterinary Times.