The first olive ridley sea turtle to be found in the UK since records began in 1748 has been helped on the road to recovery by the RVC.
The animal, which was stranded on the beach at the bottom of Anglesey Sea Zoo's drive in November, was found in a cold, stunned state and not expected to survive.
Zoo staff believe the turtle, called Menai, may have been carried 15,000 miles in oceanic currents across the Atlantic Ocean.
The zoo team has been caring for Menai since in the hope of eventually returning her to the wild.
Buoyancy issues
However, while Menai's condition improved and she gained weight, she was having buoyancy issues preventing her from diving.
Needing a CT scan to determine the cause of the problem, but with a shell diameter of 62cm, finding a piece of equipment big enough proved a problem – until staff got in touch with the RVC.
The veterinary school, which has worked with turtles in the past, has a scanner as well as experience in interpreting the scans.
European and RCVS specialist in diagnostic imaging at the RVC Marianna Biggi said: "We were excited to be approached, have the opportunity to work with Anglesey Sea Zoo and make a valuable contribution towards determining the future of Menai.
"It also provided a great experience for some of our students, who want to specialise in the more exotic side of veterinary medicine."
Damage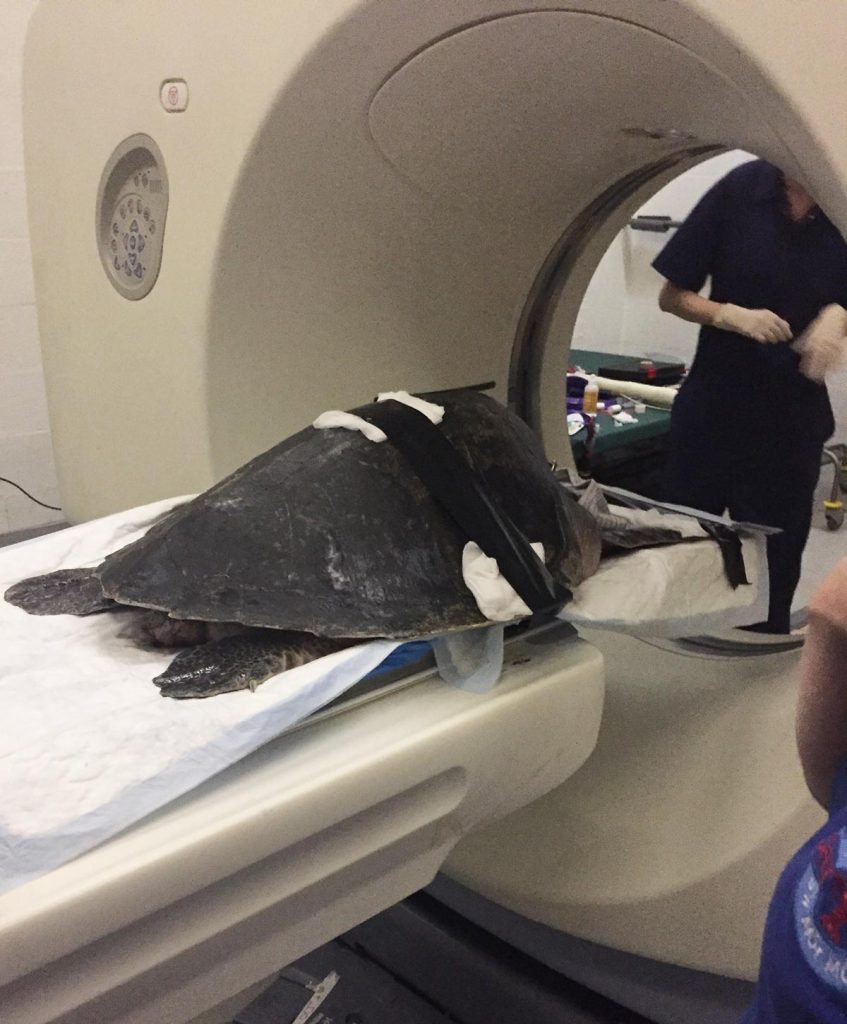 The results confirmed Menai had damage in her left lung, likely due to a tear from over-expansion of the lungs, caused by her holding her breath during trauma.
Exotic animal specialist at the RVC Jo Hedley said: "The CT scan confirmed there is damage to her left lung and this has resulted in air escaping into the coelomic cavity, making her too buoyant.
"At the moment, we would strongly recommend she is not flown due to the risk of damage from air pressure changes, but we have recommended removal of the air from the coelomic cavity so the extent of the lung damage can be accurately assessed.
"This will give us a much better idea of whether the damage will resolve itself in time, or if surgical intervention may be needed to ensure it is permanently cured."
'Minds at rest'
Director and owner of Anglesey Sea Zoo Frankie Hobro thanked the RVC's staff for their hard work.
"The results of the CT scan have put our minds at rest that Menai has no unexpected serious underlying medical issues and we are delighted to confirm she appears to be in good general health," she said.
"We are now looking forward to planning the next steps towards her full recovery on the journey to get her returned to the wild."