Vet Inga McDermott travelled to Thailand to help the Worldwide Veterinary Service (WVS) with its pursuit of improving standards of veterinary care across the globe.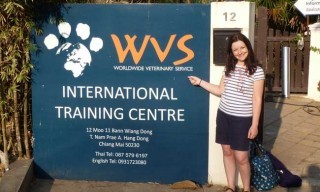 The WVS has opened an international training centre in Chiang Mai, which will deliver surgical and animal welfare courses.
Ms McDermott, of Troon, South Ayrshire, who works for Vets Now and Dalblair Veterinary Practice in Ayr, delivered practical surgical neutering courses for resident vets who have received no hands-on surgical training as part of their veterinary course.
She also used the visit to set up laboratory equipment donated by Vets Now and Woodley Equipment, enabling local vets to develop immediate results from blood and urine samples.
Disadvantaged
While impressed by the standards, despite the lack of technology, Ms McDermott recognised clinical practice was disadvantaged by the amount of time it takes to receive results for the animals treated at the clinic.
She said: "My visit to India made me think of what we take for granted back home and how hindered we would be if we didn't have immediate access to blood and urine results.
"Three years ago I was introduced to the 'minimum database' blood test while working with Vets Now. It is a quick and easy test to run, which requires minimal laboratory equipment and provides invaluable information from blood and urine samples.
"I've come to really value this test in the emergency setting at Vets Now and I recognised the benefits would equally be very well suited to the basic practice and charity setting."