Having enjoyed a colourful career spanning more than four decades, one of the UK's longest serving veterinary surgeons is hanging up his stethoscope at the age of 70.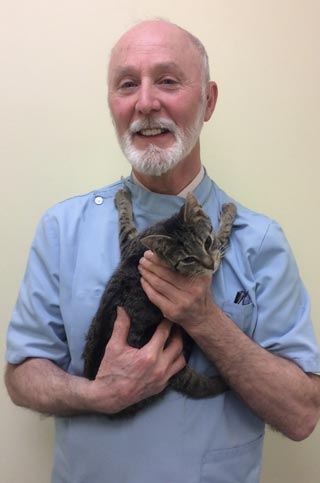 Bruce Borland will retire from Eastfield Veterinary Clinic, where he ran its Cleethorpes surgery for 16 years.
Mr Borland qualified in 1970 after graduating from the University of London and spent two years teaching at Berkshire College of Agriculture, where he trained veterinary nurses entering the profession.
Varied career
During his career, Mr Borland treated circus elephants while working in Glasgow, was left badly injured when a horse reared up and came down on top of him – knocking him out and damaging his spine, and suffered stomach wounds after being gored by a cow with horns.
The vet, who lives in The Wolds in Lincolnshire with wife Anne, said he is passionate about animal welfare and has been a vegan for 43 years.
"I've loved being a vet and I was quite torn about retiring even though I found it physically demanding," he said.
Lovely job
"I'll be very sad to leave because I've been fortunate having a lovely job I loved doing. I'm going to miss all the animals and dealing with the clients. I'm also going to miss the friendliness of the practice and comradeship."
Eastfield clinical director Helen Jeffreson, who runs the practice with husband Mike, said: "Bruce came as a locum veterinary surgeon in 2000 and we liked each other so much he stayed ever since.
"He was very influential in developing our Cleethorpes branch, and was the main vet there for several years, where he has built up a very loyal following. He is uniformly kind and courteous and will be missed by his clients and colleagues. Mike and I will miss the invaluable help and support he has given us both over the years."