The support of the veterinary profession is vital to the success of this national celebration of responsible pet ownership, claims National Pet Month chairman Phil Sketchley.
UK veterinary professionals are being urged to get behind this year's National Pet Month campaign and help raise awareness of the work they do to support pet health and welfare.
Following on from last year's successful campaign – which raised in excess of £12,000 for more than 35 animal charities – National Pet Month has been extended for 2013, and will run from April 1 to May 6.
This year's theme is "Your Pets and you: companions for life", which recognises and celebrates the benefits of life-long companionship for both pet and owner.
Despite the campaign's previous success, National Pet Month chairman Phil Sketchley is keen to remind the veterinary profession that its support is vital to the success of this national celebration of responsible pet ownership, and that every veterinary professional has an important role to play.
He said: "With help from our veterinary colleagues we really can make a difference, not only by raising awareness about important pet ownership issues, but also by helping to raise cash for worthwhile local pet charities.
"At a time when many of these charities are finding it increasingly tough to survive, National Pet Month offers the chance for veterinary professionals to come together and help these organisations raise much needed funds so they may continue their good work."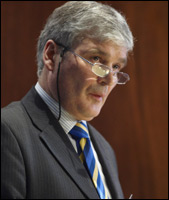 During National Pet Month, UK practices are urged to stage events to help raise awareness and money of the charity initiative, which could include open days, pet health talks or microchipping days.
Want to take a more light-hearted approach? Then what about staging a pet show, a fancy dress day or even a bake sale?
More media savvy vets could even approach their local newspaper, TV or radio station about running a pet health awareness day to highlight issues surrounding pet ownership.
Whatever approach you want to take, register as a supporter on the National Pet Month website to receive a free events pack featuring information on NPM's key messages, posters and tips on how to successfully publicise your event.
Mr Sketchley added: "We can't wait for National Pet Month 2013 to get underway and look forward to growing our nationwide army of veterinary supporters. We really appreciate the support from our sponsors Companion Care Vets and Pets at Home who help make the whole month happen, and would be delighted to hear from anyone in the profession who would like to work with us too."