Staff, visitors and their pets help to raise £1,908.81 at Blake Veterinary Group charity open day last month.
A charity open day at Blake Veterinary Group raised almost £2,000 for Hounds for Heroes.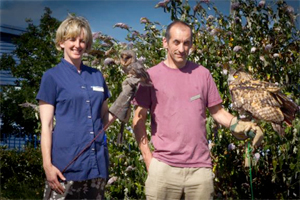 More than 350 people and their pets attended the July 14 event in Bridgewater, Somerset, to enjoy a variety of activities, including practice tours, a dog show, agility course and even an owl tent and ferret races.
Canine guests were treated to a dog wash by nurses at the practice or a session in the paddling pool, with all proceeds going towards the grand total of £1,908.81.
A spokesman for the practice said: "Thanks must go to Helen Toy of Spread Your Wings for offering the services of herself and her beautiful rescued owls in support of the cause.
"The refreshment of all was also greatly assisted, and proceeds boosted, by generous support from Asda in Bridgewater.
"If the level of attendance and the enthusiasm and generosity of attendees and contributors is anything to go by, it is to be hoped that Hounds for Heroes will be able to continue undertaking its valuable work."