Sean Taylor, from Vets4Pets Bury, has been filmed for Channel 5's The Dog Rescuers helping rescue animals from a puppy farm.
A vet has found himself a TV hero after he was filmed helping to rescue 136 dogs and puppies from a puppy farm for Channel 5's The Dog Rescuers.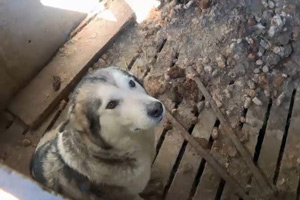 Sean Taylor, vet and partner at Vets4Pets Bury, attended the farm after it was found to be breeding and selling dogs without a licence including a number of premium breeds such as chocolate Labradors, huskies and collies.
Mr Taylor said: "The breeds at the farm are very popular at the moment and can reach very high prices on the puppy market from unwitting wannabe dog owners.
"When we first arrived the breeding dogs were our main concern. The puppies were actually being held in what was the bare minimum standard. Some of the breeding dogs were kept in very poor conditions and had been bred so much their teats were hanging to the ground. They were literally breeding machines."
The visit allowed the police, RSPCA and Mr Taylor to remove all the dogs as the farm was breaching animal welfare act legislation. The puppies were removed as evidence, and it took the team 10 hours to remove all the animals. They have all since been in the care of the RSPCA and some have been rehomed.
To watch the episode of The Dog Rescuers, visit Channel 5's website.
Image © Channel 5