A vet is to cycle the first nine stages of the Tour de France for charity.
Tim Murphy, from Town and Country Veterinary Centre in Market Harborough, Leicestershire, will cover more than 1,100 miles on the route, which will include extreme variations in weather and terrain.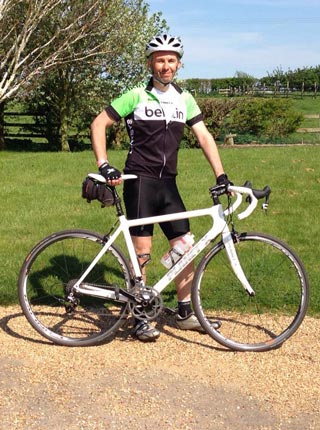 He is undertaking the feat – alongside fellow vet and friend Paul Vokes – to raise funds for The William Wates Memorial Trust, which awards grants to charities aiming to encourage young people to keep away from crime and violence using sport, art and education.
In preparation
He said: "To prepare, I am cycling as much as possible every week, racking up the miles and as many hills as I can. I'm out in all weathers and mostly, it seems, in the cold and wet.
"I'm looking forward to cycling through France and am expecting the scenery to be fantastic. From experience, I also know the camaraderie you feel with other participants is quite special.
"I must admit I'm dreading the extremes of weather. The first three stages are close to the Normandy coast, so strong winds could make for very hard cycling.
"We will also experience extreme heat during some stages and freezing cold when in the mountains."
Thrill seeker
An experienced cyclist, Mr Murphy undertakes a physical challenge every year. Previous events have seen him cycle from Land's End to John O'Groats, coast to coast and back in 48 hours, and from London to Paris in 24 hours.
He has also run the Marathon des Sables – a 150-mile multi-stage challenge through the Sahara desert, known as the toughest footrace on earth.
He said: "Each year, I say the challenge will be my last, but then something bigger and more difficult shows up and I find myself entering it.
"The William Wates Memorial Trust is a cause close to my heart because I fully support any organisation that helps people fulfil their potential to live a full and happy life. I hope to raise lots of money for them."