A tenacious vet from Essex managed to complete a neutering operation on a German shepherd while a fire broke out in her practice's kitchen. Firefighters fought the blaze to keep the operating theatre ventilated.
Vets continued to operate on a dog after a fire broke out in a veterinary practice in Southend-on-sea.
The fire, at Medivet's 24-hour Care Centre – on Eastwoodbury Lane in the coastal town – started behind a dishwasher on the first floor of the building. However, as a neutering operation on a German shepherd dog was already underway in one of the operating theatres, vet Rachael Buckwell decided to continue.
"It was my own call," said Miss Buckwell, who was in charge of the surgery at the time. "We needed to finish the operation as quickly as possible so that the dog could also be evacuated safely." She was helped by head nurse Maria Anderson, who volunteered to stay, while assistant vet Carla Cruz scrubbed up to help complete the procedure quickly.
Meanwhile, firefighters from Essex Fire and Rescue Service tackled the blaze, wearing breathing equipment to combat the thick smoke.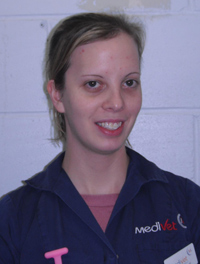 The centre, which had 16 on duty at the time, acts as referral centre for Medivet branches in the area. Staff evacuated four cats and three dog in-patients, including a cat being treated for a fever and a dog recovering from a foreign body removal operation. The animals were wrapped in blankets and looked after in the surgery's car park and a neighbouring garage as firefighters dealt with the fire.  
Two staff from the nearby Earls Hall Veterinary Group arrived with blankets to help out, and all the animals were transferred to Medivet's Hockley branch four miles away.
Lisa Pethurst, head client care assistant at the surgery, and its fire and safety officer, said: "It was a good team effort. I never thought I would need to use the training provided by Medivet's Health and Safety team. We got all the animals out and all the staff out. As soon as we saw there was smoke we dialled 999 and evacuated."
The fire, which was brought under control in slightly more than 30 minutes, destroyed the kitchen and threatened to cause an explosion when it neared the building's gas boiler. Despite extensive smoke damage, the centre was operating normally 24 hours later.
Medivet said that the company and its insurers were looking into the causes of the electrical fault that started the fire.
Main image © istockphoto.com/Kileman