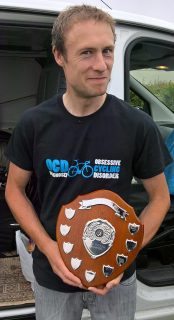 A vet has won the British Mountain Bike Orienteering National Championship at his first attempt.
Graham Tibbot – of Castle Veterinary Surgeons in Barnard Castle, County Durham – took up mountain bike orienteering in spring 2015 and won the North Yorkshire league later that year.
He also won three events in the Scottish league and two events in Yorkshire earlier this year, qualifying him for the 2016 National Championship held across two days around Exmoor and the Quantock Hills in Somerset.
Checkpoints
Mountain bike orienteering involves navigating using a map to a series of checkpoints located on roads and bridleways. Each checkpoint is worth a certain number of points, with victory going to the rider who collects the most points in the allotted time (usually three or five hours).
Riders carry an electronic device called a dibber (the size of a USB stick), which is pressed into a control box at the checkpoint to register the score. Penalties are incurred by riders returning late to the finish.
Behind after day one
Mr Tibbot, who lives in Barnard Castle and has worked at Castle Vets as a farm vet for three-and-a-half years, said: "There were about 60 other riders and I was most worried about the local riders, who would be familiar with the terrain.
"It was some of the hilliest I've come across anywhere, with the first day's ride the equivalent of climbing Ben Nevis and Snowdon in one day. The event planners also chose to locate most checkpoints at the top of the hills to really test us.
"We were able to look at a map of the area beforehand, but only at the start line was the map with all the marked checkpoints revealed.
"I was slightly behind after day one, but managed to record the best score on day two, which was enough to scrape the win by three points as the next rider finished three minutes late."
Mr Tibbot's aim now is to finish as high as possible in the National League, which finishes in October.