World vet association completes third visit to Asia to examine small animal infectious disease and vaccination practice.
The WSAVA Vaccination Guidelines Group (VGG) has completed the last of three visits to Asian countries as part of its project to examine small animal infectious disease and vaccination practice.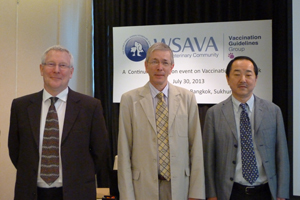 With its fact-finding activities now complete, the VGG will distil the information obtained during this and earlier visits to Japan and India before producing advice and recommendations for Asian small animal practitioners.
It aims to publish this information in early 2014.
The VGG began its final visit in Beijing on July 20 (2013), where members met with vets, academics and government officials and visited three veterinary practices in the city. 
A one-day continuing education programme was attended by 100 veterinarians. In Shanghai, the VGG held further meetings with practitioners, academics and representatives of industry and visited three further veterinary practices.
Eighty veterinarians attended the continuing education event in Shanghai. It then moved to Bangkok where a round of similar meetings was held, followed by a third continuing education event attended by 80 veterinarians.
Michael Day, chairman of the VGG, said: "This two-year project in Asia has been enormously successful and we now have a much greater understanding of the particular challenges faced by Asian practitioners.
"During our visits we have provided continuing education to more than 800 veterinarians; spoken with dozens of local opinion leaders and obtained survey data from almost 800 first opinion practitioners.
"Our visits to a wide spectrum of veterinary practices have been particularly informative, enabling us to see at first hand the challenges faced by our Asian colleagues.
"The work of the VGG would not be possible without the kind sponsorship of MSD Animal Health and we are grateful for its continuing support. "