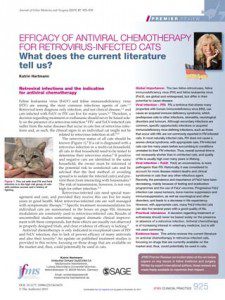 The extent to which antiviral chemotherapy might be considered by vets treating cats with retroviral infections is explored in a review article published in the Journal of Feline Medicine and Surgery.
In the article, Katrin Hartmann, head of the clinic of small animal medicine at the LMU University of Munich, Germany, presents best practice recommendations for managing such cases.
Prof Hartmann has carried out more than two decades of research on infectious diseases in cats and dogs, with a focus on viral infections in cats.
The review concludes with a call for more well-designed clinical trials using antivirals in retrovirus-infected cats, to allow better judgement on treatment efficacy and side effects.