A lecturer at The University of Nottingham's vet school is helping improve the welfare of working elephants in south-east Asia.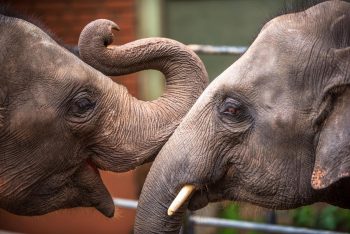 Lecturer in zoo and wildlife medicine Lisa Yon has developed a workshop in collaboration with Valerie Hare and Deb Ng from the non-profit organisation Shape of Enrichment, which trains people in developing environmental enrichment for animals living in captivity.
New workshop
Along with Gail Laule from the Singapore Zoo – an expert in animal training methods – they are working with the Golden Triangle Asian Elephant Foundation (GTAEF) in Chiang Rai, Thailand, to develop a new workshop centred around elephant welfare and well-being.
The five-day workshop, taking place at the GTAEF from 7 to 11 June, will bring together mahouts, owners and vets from the region's elephant camps to explore ways to more effectively meet the physical and emotional needs of elephants in captivity.
It will look at ways some of the elephants' natural behaviours in the wild could be accommodated in camps, and cover:
positive training methods
behaviour and welfare assessment
environmental enrichment
Natural behaviours
Asian elephants in the wild roam over thousands of square kilometres and develop complex social relationships while living in multi-generational herds of up to 60 animals or more.
While this is clearly not practical in the camp environment, the workshop will discuss changes that can be made to improve the elephants' emotional well-being.
Collaborative effort
Dr Yon said: "We want to work together with the mahouts and elephant camp owners who are working to ensure the positive well-being of these elephants.
"The elephant is endangered and, within a few decades, these animals could become extinct in the wild.
"The only ones we would then have left on the planet would be those living in captivity – we need to give those animals the best welfare possible."