Free online access to the winter 2016 issue of the European Journal of Companion Animal Practitioners (EJCAP) is now available to all UK veterinary professionals.
Features include: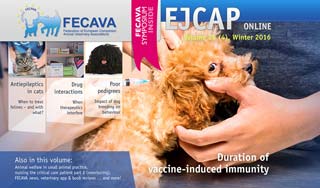 Duration of vaccine-induced immunity (Karin Moestl)
Top-10 potential drug interactions (Jennifer Reinhart and Lauren Trepanned)
10 animal welfare ideas to apply in practice (Dorothea Döring, Michael Erhard)
Deleterious effects of pedigree dog breeding on behaviour (Nicola Rooney)
Oral antiepileptic drug therapy options in cats (Ramona Mikscha, Andreas Liebhart, Ákos Pákozdy)
Nursing the critical care patient – part 2: monitoring (Kath Howie)
"How to…" podcasts on draining a chest (Daniela Lurgia) and dealing with pododermatitis (Rosanna Marsella)
Official organ
EJCAP is the official organ of the Federation of European Companion Animal Veterinary Associations (FECAVA), the platform for the promotion of the professional development and representation of companion animal veterinarians in Europe.
Founded in 1990, it currently has 40 national member associations and 13 associate member associations. FECAVA represents over 30,000 companion animal practitioners throughout Europe.
To access the winter 2016 issue visit www.ejcap.org