Developing a genetic test to identify dogs carrying a devastating neurological condition has netted a veterinary welfare charity an international award.
Awarded to the Animal Health Trust (AHT), the Companion Animal Welfare Award, from the Universities Federation for Animal Welfare (UFAW), recognises significant innovations or advances for the welfare of companion animals.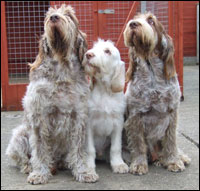 The AHT's canine genetics team received the award in recognition of its research into the genetics of cerebellar ataxia in Italian spinones. Dogs born with the condition show no symptoms at birth, but clinical signs usually appear within the first weeks or months of life.
Cerebellar ataxia makes dogs develop an unsteady gait, loss of coordination and poor balance. Symptoms become worse during the first year of life and in most cases dogs are euthanased before they are one year old on welfare grounds.
Scientists at the AHT developed a genetic marker test which allows breeders to make informed decisions about which dogs to select for breeding, minimising the risk of producing affected puppies. Continued use of this test could mean that this distressing disorder, in time, would be eradicated.

Genetics research assistant Oliver Forman, who submitted the project to UFAW, said: "It's fantastic to be recognised for the work we're doing looking at genetic conditions but there is still a lot to do. The prize money will enable us to undertake further research and hopefully, in time, improve the health and welfare of other breeds of dogs."
James Kirkwood, chief executive and scientific director of UFAW, said: "UFAW works for substantial advances in animal welfare through promotion and support of high quality science and education. This is why we have created the Companion Animal Welfare Award.
"The standard of applications in its first year was extremely high and the AHT's genetics work really stood out as an excellent example of the application of cutting edge science to tackle a current and major challenge – genetic welfare problems in dogs. We're delighted to select them as winners."
The AHT was one of three winners to receive the Companion Animal Welfare Award in 2009. Each was awarded £1,000. Prizes were awarded on June 22 at UFAW's International Symposium on 'Darwinian selection, selective breeding and the welfare of animals'.