Defra has escalated the risk level for the incursion of highly pathogenic H5N8 avian influenza (HPAI) into the UK via wild birds to "high".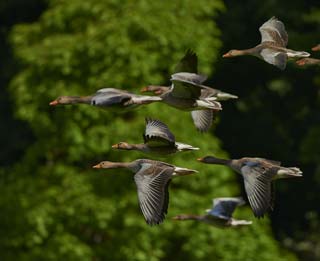 In their latest assessment, APHA scientists noted the single outbreak on a UK turkey fattening farm in the region of East Lindsey, Lincolnshire, which the CVO confirmed as H5N8 on 16 December, with subsequent confirmation as HPAI on 17 December.
Situation assessment
In a written situation assessment, the scientists said: "Across Europe, the disease continues to cause outbreaks with France, the Netherlands, Germany, Poland and Hungary reporting more outbreaks in commercial premises, and Greece now reporting a case in wild birds.
"Further afield, Ukraine has reported more outbreaks and Nigeria has now reported H5N8 HPAI. Nigeria is in a region affected by H5N1 HPAI, where disease continues to spread through live bird markets and gatherings. Given the level of geographic spread across Europe and Africa, we should expect this virus to remain an issue and pose a continuing risk to our poultry sector for a considerable time.
"The risk level for the UK has now been increased to 'HIGH' for an incursion of an infected wild bird (that is, we consider they may already be present in the UK), and the risk to poultry on individual premises has subsequently increased to 'LOW TO MEDIUM', dependent on the biosecurity and geographical region of the premises.
"The pathogenicity of this strain means poultry, particularly, may exhibit severe clinical signs and high mortalities, but clinical signs vary and less severe disease may also occur."
Remain vigilant
They added: "The data is sometimes difficult to interpret, as it depends on the time to report disease, but high mortality [greater than 30%] has been seen in some outbreaks of H5N8 in all commercial poultry types.
"It is absolutely paramount poultry keepers remain vigilant and alert the authorities to any suspicion of avian influenza to prevent any further onward spread."
The prevention zones will remain in place until 6 January 2017, at which point they will be reviewed.