A turkey that literally fell into its owners' lives after being dropped in their garden has become the first of his species to be treated at a local small animal practice.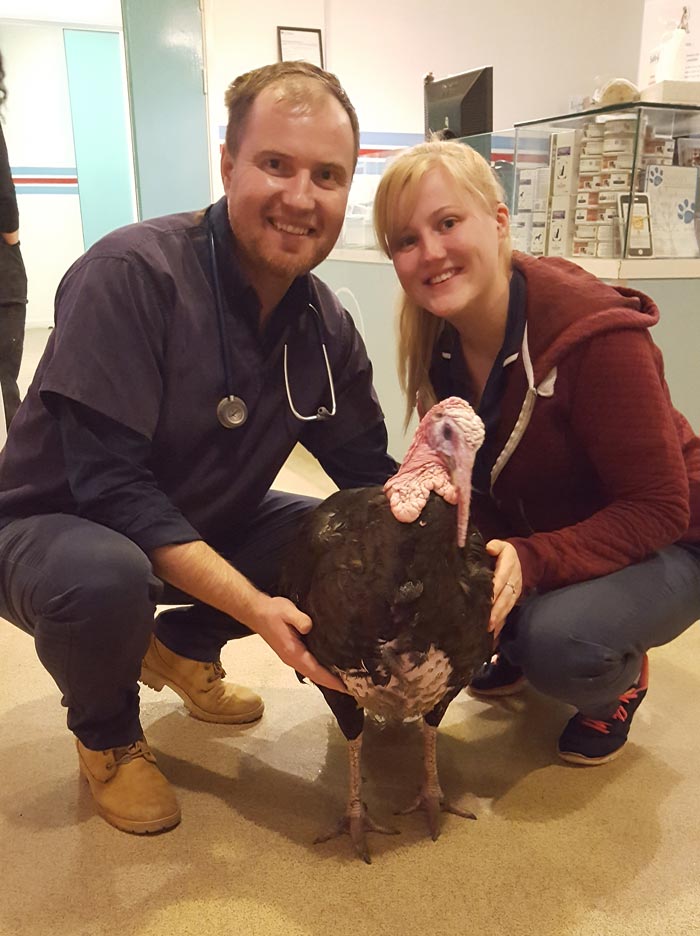 Twizzle the Norfolk black turkey was taken to Easipetcare in Reading by owner Laura Lytton to be treated for a dog bite on 15 February.
Crash landing
The bird landed in the Lyttons' lives after escaping the clutches of a bird of prey as a chick. They think the plucky bird was probably poached from a turkey farm before crash-landing in their back garden.
Mrs Lytton initially had "no idea" what species the chick was as it was still bald, but his true identity soon became clear and he quickly settled into family life.
Ruling the roost
Twizzle spends so much time with the family's German shepherd dogs that he even tries to bark. He also accompanies the family on walks and has even visited the local pub.
However, he recently fell foul of one of the dogs, Ernie, by stepping on him when he was sleeping.
Mrs Lytton said: "He's a heavy bird so probably gave Ernie a bit of a shock, and he gave him a nip in retaliation. Fortunately, the bite wasn't serious and with a bit of help from the vet and some medication, he's now back to his normal self and trying to rule the roost."
Vet Augustin Mihalache treated Twizzle. He said: "Treating Twizzle was a first for us – but we were delighted to help."