Successful four star event horse, Marsh Mayfly,has bounced back onto theeventing circuit following time out to have a foal and stem cell treatment for a tendon injury sustained in 2007.
Last month she was piloted to victory by rider Ruth Edge at the Burnham Market CIC ***, and followed this with a third place in her advanced section at Belton Horse Trials, showing a very promising start to her 2009 eventing campaign.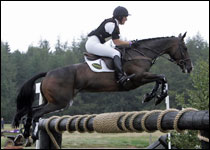 The 12-year-old Marsh Mayfly, known at home as Flower, is by the ID stallion Glenbrae out of a TB mare and is owned and bred by Ann Lawson at whose yard Ruth Edge is based.
The mare has been evented by Ruth Edge since she was a five-year-old and has already accumulated an impressive 459 British Eventing points.
It was after coming fourth at Chatsworth International in 2007 that Marsh Mayfly developed heat and swelling in the right foreleg. Ann Lawson explained: "Flower is a brave horse with a wonderful temperament. Show jumping is her weak point but she jumped beautifully at Chatsworth only to pull up lame. We were understandably devastated but our vet Andrew Miller remained optimistic and recommended stem cell therapy. We duly proceeded with the treatment and also decided to put Flower in foal."
Equine vet Andrew Miller from the Ark veterinary centre in Lockerbie continued. "Scans showed fibre damage in the mare's off fore superficial digital flexor tendon. Stem cell therapy offers a good prognosis for this type of injury and was the ideal treatment protocol in the circumstances. Ann's desire to put Flower in foal also tied in well with the required rehabilitation programme following treatment."
Flower underwent stem cell treatment five weeks after Chatsworth. Bone marrow, which is a rich source of stem cells, was extracted from her sternum while she was under sedation. In the laboratory the stem cells were isolated from the bone marrow and multiplied to in excess of ten million cells before being re-suspended in nutrient rich bone marrow supernatant. The cells were then injected into the site of the injury with the aim of promoting re-growth of the flexible tendon tissue rather than allowing less pliable and more injury-prone scar tissue to form.
Following the procedure Marsh Mayfly was placed on a strict regime of controlled exercise and serial scans were carried out to assess the degree of healing. Ann recalled: "We adhered to the rehabilitation programme religiously until it came to the cantering when Flower was just too large for any faster work. On June 3rd she gave birth to Perry, a colt foal by the dressage stallion Pro Set. After weaning we started exercise again, including a weekly workout in our local equine pool at Pine Lodge."
Marsh Mayfly's competition career commenced again in April this year and according to her rider Ruth Edge she feels better than ever: "She gave me wonderful rides at Burnham Market and at Belton and felt fit, keen and full of power. She's such a generous horse and it's great to be back on board. Luhmϋhlen is next on the calendar and I'm looking forward to it."
Stem cell treatment is usually very straightforward and can be carried out at most of the UK's leading equine veterinary practices as a routine veterinary procedure. Many equine insurance policies allow claims to be made for the treatment.
VetCell Bioscience pioneered equine stem cell procedures in the UK and is now the leading provider of stem cell technology to the world of animal health. For further information visit www.vetcell.com telephone + 44 (0)1223 493488 or email vets@vetcell.com